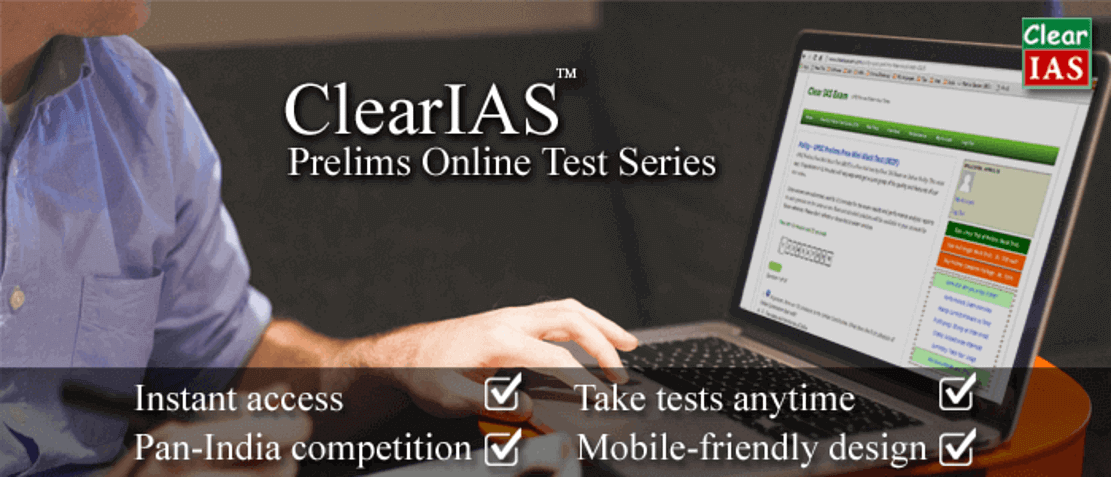 Limited Period Offer: Join now and get 40% discount!
Enroll now in ClearIAS test series 2019, and get instant access to already uploaded and upcoming exams (40 mock tests) at just Rs.9000 Rs.4999 (inclusive of all taxes).
Enroll in ClearIAS Prelims Test Series 2019

 –

Rs.9000 

Rs.4999
ClearIAS Test Series – Unique Benefits
Once you enroll in ClearIAS Prelims Online Mock Test Series 2019, you would get
Instant access to all the uploaded paid-mock tests in Prelims Test Series 2019 – even at midnight!
Automatic access to all upcoming paid-mock tests in Prelims Test Series 2019, without any additional individual payments!
Flexibility to attempt exams in ClearIAS Prelims Test Series 2019 at any time convenient for you, until the date of Prelims 2019, when the validity expires.
FREE pass to ClearIAS webinars/seminars on Intelligent Elimination Techniques (IET)™ for Prelims 2019, once we start those.
As an additional offer, FLAT 50% discount on all ebooks (PDFs) on ClearIAS store.
Subscribe ClearIAS test series 2019 (40 mock tests) at Rs.4999 and get the early-bird advantage!
A lot of questions in actual UPSC CSE Prelims could have been answered from ClearIAS Test Series!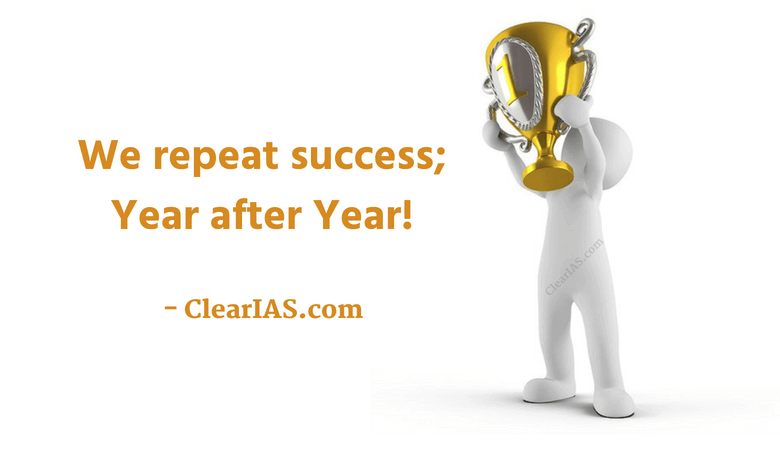 ClearIAS is one of the pioneers in pan-India UPSC Prelims online mock-tests with performance analysis. Over the last few years, we have helped thousands of aspirants clear UPSC Prelims in flying colours.
ClearIAS Prelims Mock Exams ♥ Trusted By Toppers!
What do UPSC toppers say about us?

Dr T Shubhamangala IAS
ClearIAS Online Student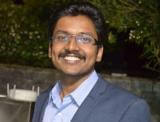 Hariram Shankar IPS
ClearIAS Online Student
Before waiting to finish all your topics, do as many mock tests as possible. Once your brain gets the idea of how to guess intelligently, later studies will further help, thus maximising your prelims marks.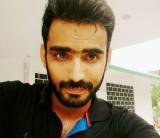 Avneet Punia IAS
ClearIAS Online Student
ClearIAS was the first UPSC preparation app I downloaded on my phone and I needed no other online help after that. Thank you so much ClearIAS!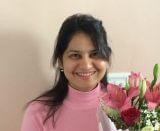 Poonam Dalal IRS
ClearIAS Online Student
Working 24*7 in the police for the last 5 years and been out of touch  with the preparation, I took the guidance from your website, especially the ClearIAS prelims test series. I bought it and found it to be the best available online.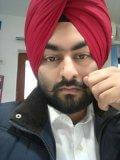 Dilmil Singh Soach IRS
ClearIAS Online Student
I had enrolled into the ClearIAS prelims mock test series in 2015 and have been successful in clearing the civil services exam with a rank of 379. First of all a big thanks to you all at ClearIAS. ClearIAS is a great platform.
Sunil George ICFS
ClearIAS Online Student
The prelims online mock tests by ClearIAS were of great help to me. I was able to evaluate my performance after every test. It allowed me to understand my weak areas, work more on them, and improve upon them.
Instant Access to Mock Tests after Payment!
You will get instant access to all existing and upcoming mock tests until Prelims 2019. If not yet registered on this platform, register first, and then login with your username and password.
FLAT 20% ClearIAS Previous-Year Student Discount
All previous year subscribers of ClearIAS Prelims Test Series (2015-2018) would get FLAT 20% discount on ClearIAS Prelims Test Series 2019. Just enter the discount code, we emailed you, in the box below.
ClearIAS Prelims Test Series 2019: What makes us special?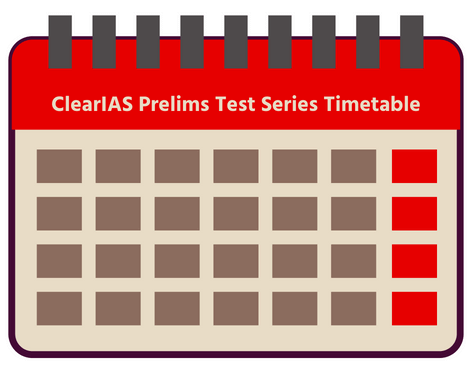 ClearIAS Prelims Online Mock Test Series integrates learning with test-taking.
We focus on fast-learning through MCQs – based on a topnotch timetable – which in turn will help you increase your prelims marks by a big margin!
Have a quick look at our features:
40 UPSC Prelims Mock Exams (2 hours tests, 200 marks, Negative-Marking).
Instant access to take our mock exams from a laptop, tablet or mobile.
Detailed answer key and performance analysis as soon as the exam is over.
Solutions will be available in each user account for revision until Prelims 2019.
You can pay now and take tests at any time convenient before Prelims 2019.
High-quality questions similar to UPSC standards which help you learn faster.
Pan-India platform to learn and compete with thousands of aspirants real-time.
More than 2,00,000 registered users on this platform already!
How can you make payment for the full-length tests?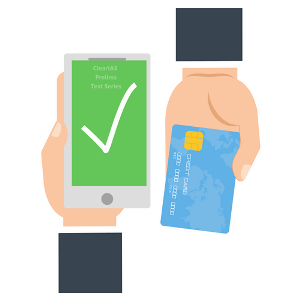 You need to register and login before making payment to paid prelims mock tests (the process is so fast, it just takes less than 1 minute of your time!).
Once registered and logged in, you would see an orange coloured buy button on this page.
Payment to the full-length prelims mock tests can be made through debit card, credit card or net-banking. International payments are also supported, for aspirants preparing from outside India.
Once the payment happens through the payment gateway (hardly takes 2-3 minutes), users will be re-directed back to the corresponding tests with instant access, even at midnight!