UPSC Prelims Online Mock Exams Discount Offer!
The wait is finally over! You can now enroll for ClearIAS Online Prelims Test Series 2018!
This will be the 4th season of ClearIAS online mock tests – after successful prelims mock test series for Prelims 2015, Prelims 2016 and Prelims 2017.  About 35 mock tests are already uploaded in the platform. More mock tests will be regularly uploaded to the Prelims 2018 package without any extra payments!
UPSC Civil Services Exam preparation now affordable!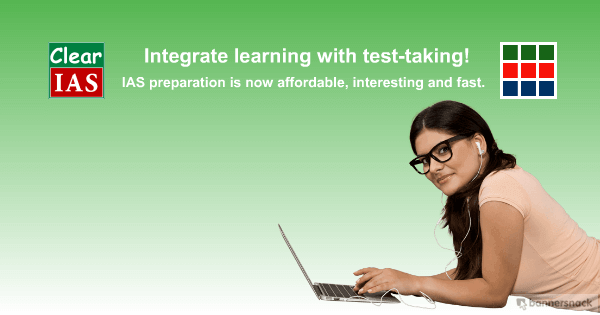 From the beginning, our mission was to make UPSC Civil Services Exam preparation affordable and inclusive. All our online study materials at clearias.com and ClearIAS app are free. Our team has put a lot of time, money and effort to develop this product. But still, at a time when many coaching institutes in metros charge ten-thousands of rupees for prelims mock test series alone, we want our test series to be affordable to lakhs of aspirants in the country. Our goal is to provide lot more features at a much lesser price, thanks to technology!
Limited Period offer!
ClearIAS guarantees you a dramatic improvement in your conceptual knowledge and test-taking skills in a timed environment (with negative marking) after each of our tests. Explore our unique features, you would be surprised to find how fast you can learn! If not subscribed yet to Clear IAS Exam Prelims Online Mock Tests Complete Package, grab it now to be one of the early members of the family at a discounted price.
As part of our limited period offer, aspirants who buy the Prelims Test Series 2018 will now get the subscription for just Rs. 9000 Rs. 4999. This means:
Instant access to 35 existing prelims mocks tests in this website.
Automatic access to all future paid-mock-tests uploaded for Prelims 2018, without any individual payments!
The complete prelims online test package (55-mock tests) can be purchased for a discounted price of Rs. 9000 Rs. 4999 while individual mock tests can be purchased for Rs. 400 each. Click to buy Clear IAS Exam Prelims Online Mock Tests Complete Package as part of this limited period offer.
This innovative platform – Clear IAS Exam – integrates learning with test-taking, making the whole IAS preparation affordable, interesting and fast. This is a crucial milestone in our journey towards a comprehensive self-study package for UPSC Civil Services Exam.